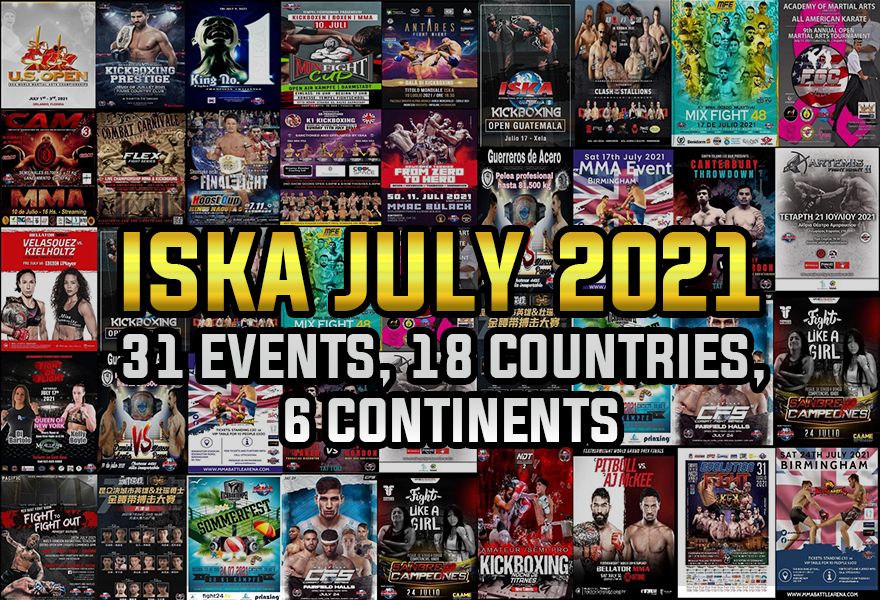 During the month of July the ISKA sanctioned/regulated 31 Events in 18 Countries on 6 Continents featuring 14 ISKA Championship fights. 
We scheduled 37 events but 6 were cancelled or postponed due to Covid regulations and restrictions. The fact that we delivered 31 events in one month during a worldwide pandemic is incredible and a great credit to our National Directors, Promoters and Officials who maintain a global circuit for Combat Sports athletes.   
We are still operating below our Pre-Covid level which averaged 60 events per month and it's still difficult for athletes to travel internationally with many borders closed or subject to restrictions, but as restrictions are lifted we are moving forward.         
ISKA July 2021, 6 Continents, 18 Countries: 
| | |
| --- | --- |
| | |
| | |
| | |
| | Albania, France, Germany, Greece, Italy, Spain, Switzerland, UK |
| | |
| | Argentina, Chile, Ecuador, Guatemala |
| | |
ISKA Title Fight results July 2021:
10th July 2021
ISKA World Super-featherweight title 59kg OR
Salvotore Castro (Italy) vs Lander Ripodas (Spain)
Winner and New Champion Lander Ripodas TKO R4
ISKA World Welterweight title 67kg MT
Alex Ajouatsa (Italy) vs Jamal Wahib (France)
Winner and New Champion Alex Ajouatsa Dec. 3-0 
ISKA World Super-lightweight title 63.5kg OR

Hamid Najafi (Germany) vs Luca D'Isanto (Italy)
Winner and New Champion Luca D'Isanto TKO R3
10th July 2021
ISKA Pro New York State title 65kg K-1 Rules
Rick Schaefer (No Limits) vs Will Cahoun (Clarkesville FC) 
Winner and New Champion Rick Schaefer Decision 3-0
ISKA Elite Amateur New York State title 62kg MMA
Pedro Villa (Warrior Nation) vs Kevin Stirling (LAW MMA)
Winner and New Champion Pedro Villa Decision 3-0
11th July 2021
ISKA World Super-lightweight title 63.5kg MT
Shunsuke Oishi (Japan) vs Chachai Maki (Thailand)
Winner and New Champion Chachai Maki TKO R3 0:43 
11th July 2021
ISKA Elite Amateur Northern Area title 72.5kg K-1 Rules
Lewis Guest (Powers MAC) vs William Kwong (Hella Gym)
Winner and New Champion Lewis Guest TKO R2  
ISKA Elite Amateur Northern Area title 88.5kg K-1 Rules
Luke Boden (Powers MAC) vs Matty Hunton (Fight Unit)
Winner and New Champion Luke Boden TKO R2
16th July 2021
Durres, Albania
ISKA Cadet Amateur Albanian title 55kg K-1 Rules 
Eri Lala (Titans) vs Hysen Kroi (Tempulli I hekurt)
Winner and New Champion Eri Lala Decision 3-0 
17th July 2021
Buenos Aires, Argentina 
ISKA Argentine National Light-heavyweight title 81.5kg FR
Daniel Acuña
 (Punos de Acero) vs 
Marcos Passo
 (Inrio Team)
Winner and New Champion 
Daniel Acuña
 TKO R2
21st July 2021
ISKA Balkans Middleweight title 75kg K-1 Rules 
Nikos Papanikolaou vs Stefanos Douvoris
Winner and New Champion Nikos Papanikolaou TKO R2
24th July 2021
ISKA Intercontinental Light-welterweight title 65kg MT 
Mo Abdurahman (England) vs Nico Carrillo (Scotland)
Winner and New Champion Nico Carrillo TKO R4
ISKA English Semi-pro title 67kg K-1 Rules
Tom Kirk (ECMMA) vs Callum Haughian (Free) 
Winner and New Champion 
Tom Kirk Decision 3-0
24th July 2021
Christchurch, New Zealand 
ISKA South Island Light-middleweight title 72.5kg OR
Charlie Baker (Proactive) vs Avery Gordon (MTC)
Winner and New Champion Charlie Baker TKO R3 1:45