It is with a great deal of both pleasure and pride that ISKA recognizes ZHANG JUTAO as 2020 MAN OF THE YEAR.
Born in Cangzhou City, Hebei Province, a city famous for its traditional Chinese martial arts history, Zhang Jutao began is practice of martial arts as a child along with participation in track and field. In 2008, he began his pursuit of expertise in Sanda a where he eventually earned Champion runner-up in Hebei Province and a National second-level athlete title. In 2015 Jutao graduated from Tianjin Sports University with a degree in Traditional Sports and a specialty in Sanda. While in his third year at University he started his business and established his own sports club.
Jutao then traveled internationally throughout Europe teaching Sanda and in 2016, he served as the chief referee for the Sanda event divisions at the ISKA World Championships in Stuttgart Germany.
While continuing his leadership in Sanda, Jutao also earned his WBC boxing referee certificate and Maga Shu (Israeli Fighting Skill) Coaching Qualification while also fostering a cooperative relationship with Tianjin Sport University to promote martial arts, Sanda, Tai Chi and Health Qigong.
In 2018, Jutao coordinated the participation of the first ever official Chinese Amateur team to compete at the ISKA Amateur Association World Championships, held in Kiev Ukraine and was appointed ISKA National Amateur Division Director for China. In 2019 he followed with extensive Officials Trainings and Certifications leading to an unprecedented level of activity in 2020 under what we all recognize as extraordinarily challenging circumstances.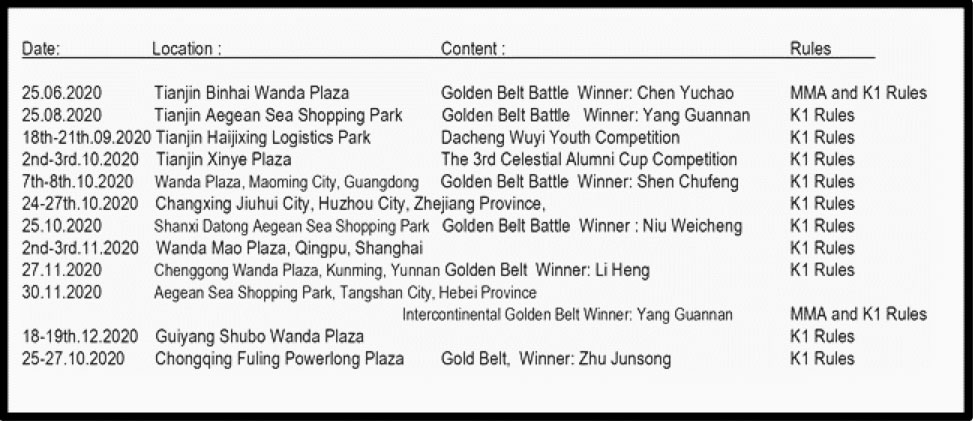 Zhang Jutao's attitude, efforts and the results of his committed actions have reflected the very best intentions of the ISKA mission – a commitment to providing increasingly better opportunities for our athletes, continuing education for our officials and a growing global platform for our sport. We have great confidence in Jutao, his integrity, his passion, and his long-term vision for expanding the prospects of the athletes under his sphere of influence.